Wedding is most important and precious part of our life then why not make it more memorable by having a beach wedding. Many of them love beach wedding and have always dreamt tieing a knot with the amazing view, cool breeze and white sand all around.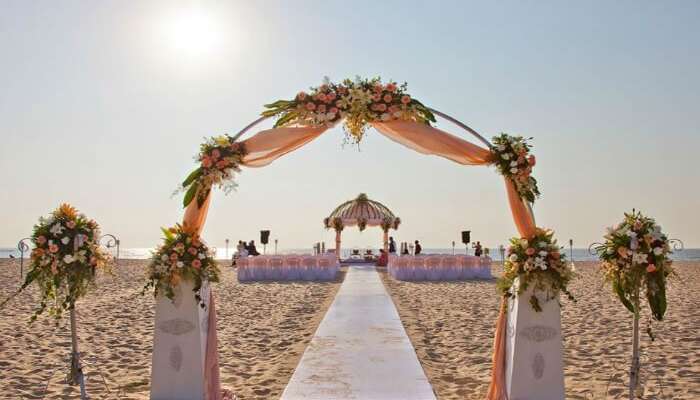 The best resorts with private beach in Goa for your Big Wedding
Riva Beach Resort
Riva Beach Resort is said to be one of the best resorts that you can choose for a destination wedding as this resort have one of the finest beaches with white sand and is located in Manderem of north Goa. This resort is having an extravagant property where all the rooms have beach view, air conditioned, mini bar and more.
Novotel Goa
Novotel Goa dona Sylvia resort is also one of the amazing resort that is located near Cavelossim Beach, goa which can be picked by you to tie a know as they have many beach facing lawns, excellent surroundings, best menu, unique architecture, wonderful rooms and many more which makes it the best place for a wedding.
The Leela
The Leela is one of the best resorts with private beach in goa which is located in the mobor of Goa. This is a ideal resort which has amazing view and have a dream wedding where you can tie a knot on the beach side. With best hospitality and excellent architecture this makes a perfect place for a dream beach wedding.
 The Lalit
The Lalit golf and spa resort is also one of the best resorts in goa that you can choose which has amazing view and also have a landscape garden and beautiful romantic backdrops. This resort can complete you dream by having a lavish and memorable wedding that you both always wanted to have and enjoy your most beautiful day.
Grand Hyatt
Grand Hyatt resort is another best venue that you can choose in goa for a beach wedding which is located in Bambolim. This hotel is mainly known for the largest destination venue where they have massive space and have your all your wedding functions at this place be it a Mehndi or sangeet.
These are the best resorts with private beach in goa that you can pick for your special day if it fits in all your requirements as goa in of the top wedding destination especially for beach wedding and get all your dreams fulfilled.
Thank You for Visiting!!